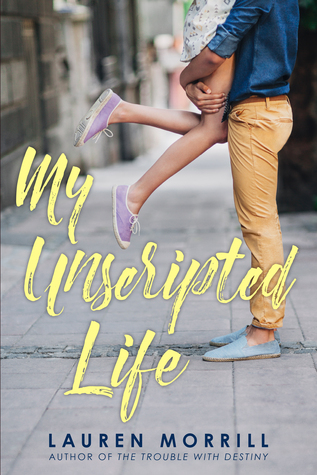 Gebundene Ausgabe:
288 Seiten
Another sultry Georgia summer is about to get a lot hotter. Dee Wilkie is still licking her wounds after getting rejected by the precollege fine arts program of her dreams. But if she'd gone away, she wouldn't have been around to say yes to an unbelievable opportunity: working on the set of a movie filming in her small Southern town that just happens to be starring Milo Ritter, the famous pop star Dee (along with the rest of the world) has had a crush since eighth grade.
It's not like Dee will be sharing any screen time with Milo—she's just a lowly PA. And Milo is so disappointingly rude that Dee is eager to stay far away from him. Except after a few chance meetings, she begins to wonder if just maybe there's a reason for his offensive attitude, and if there's more to Milo than his good looks and above-it-all Hollywood pedigree. Can a relationship with a guy like Milo ever work out for a girl like Dee? Never say never. . .
Lauren Elizabeth Morrill is many things, including, but not limited to, a writer, an educator, a badass roller derby skater, a former band nerd, an aggressive driver, and a die-hard Mac person. She also watches a lot of TV, eats a lot of junk food, and drinks a lot of Coke. It's a wonder her brain and teeth haven't rotted out of her head.
Lauren is the author of Meant to Be, Being Sloane Jacobs, The Trouble With Destiny, and the forthcoming My Unscripted Life (October 2016), all from Random House.
Eigentlich sollte Dee den Sommer mit ihrer besten Freundin in einem Kunst-Programm zur Collegevorbereitung verbringen, doch als sie dafür abgelehnt wird, bricht ihr Traum von einem Kunststudium in sich zusammen. Ein langer und langweiliger Sommer erwartet sie, bis sie zufällig ein Jobangebot erhält. Für Dee steht fest: Am Set eines Filmes zu arbeiten ist besser, als den ganzen Sommer trübsal zu blasen und sich Gedanken um die Zukunft zu machen. Noch besser: Die Hauptrolle besetzt ausgerechnet Milo Ritter, ein Sänger, für den Dee schon seit Jahren schwärmt. Leider scheint er ganz anders zu sein, als sie erwartet hatte...
Ich lese unglaublich gerne Bücher dieser Art und war deshalb sehr gespannt auf "My Unscripted Life". Dee mochte ich von der ersten Seite an, denn sie ist sympathisch und man kann sich leicht mit ihr identifizieren. Nachdem man ihr gesagt hat, dass sie nicht gut genug für das Kunst-Programm ist, zweifelt sie an ihren Fähigkeiten und weiß nicht weiter. Ich fand es sehr bemerkenswert, wie sie im Laufe des Buches damit umgegangen ist und diese Ablehnung verarbeitet hat.
"You've got to quit confusing the plan and the dream. Plans change. They fall apart.
Sometimes outside forces even blow them to smithereens. But the dream is what you always come back to. It's your lighthouse in the fog. In the freaking storm."
Milo ist auf den ersten Blick der typische Popstar: unglaublich gut aussehend wie arrogant. Ich muss ehrlich gestehen, dass ich mehr erwartet hatte, besonders von ihm. Obwohl man relativ schnell erfährt, wieso er sich abweisend verhält und auf Abstand geht, fand ich ihn einfach etwas langweilig. Was wahrscheinlich daran liegt, dass man nicht besonders viel über ihn erfahren hat und sein Charakter eher oberflächlich blieb.
Auch die Beziehung zwischen Dee und Milo hat sich meiner Meinung nach viel zu schnell entwickelt, was mich doch gestört und enttäuscht hat. Die Autorin hätte hier viel mehr rausholen und tiefere Emotionen heraus bringen können. Dennoch fand ich die beiden richtig süß zusammen, besonders da Dee eine andere Seite von Milo zum Vorschein gebracht hat.
"We kiss, and suddenly everything melts away with the rain.
He's not sad or lonely. I'm not lost or uninspired. We're not worried about art or music or exes or cameras.
We're not worried about hiding from anything or anyone.
He's just Milo, and I'm just Dee. Together."
Mit Humor und Gefühl erzählt Lauren Morrill eine süße und nette Geschichte, die zwar an sich nichts besonderes ist, aber durch nette Charaktere, interessante Hintergrundeinblicke in die Filmindustrie und eine junge Liebe für einige schöne Lesestunden sorgt. Obwohl mir persönlich einiges an diesem Buch gefehlt hat und zu schnell ging, habe ich mich gut unterhalten.