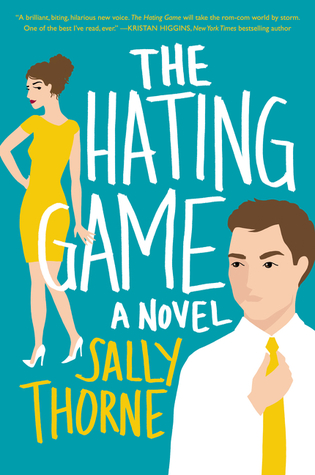 Verlag:
William Morrow Paperbacks
Nemesis (n.)
1) An opponent or rival whom a person cannot best or overcome;
2) A person's undoing;
3) Joshua Templeman.
Lucy Hutton and Joshua Templeman hate each other. Not dislike. Not begrudgingly tolerate. Hate. And they have no problem displaying their feelings through a series of ritualistic passive aggressive maneuvers as they sit across from each other, executive assistants to co-CEOs of a publishing company. Lucy can't understand Joshua's joyless, uptight, meticulous approach to his job. Joshua is clearly baffled by Lucy's overly bright clothes, quirkiness, and Pollyanna attitude.
Now up for the same promotion, their battle of wills has come to a head and Lucy refuses to back down when their latest game could cost her her dream job…But the tension between Lucy and Joshua has also reached its boiling point, and Lucy is discovering that maybe she doesn't hate Joshua. And maybe, he doesn't hate her either. Or maybe this is just another game.
Sally Thorne lives in Canberra, Australia, and spends her days writing funding submissions and drafting contracts (yawn!) so it's not surprising that after hours she climbs into colorful fictional worlds of her own creation. Sally believes that romance readers are always searching for intensity in their next favorite book—and it isn't always so easy to find.
The Hating Game
is her first novel.
"I've always suspected people in our lives are here to teach us a lesson.
I've been sure Josh's purpose is to test me. Push me. Make me tougher.
And to a certain degree it's been true."
Lucy Hutton hasst Joshua Templeman. Seit sich der Verlag, für den sie arbeitet mit einem anderen Verlag zusammen getan hat, besteht ihr Arbeitstag hauptsächlich darin, sich Wortgefechte & Streiche mit Joshua zu liefern, der ihr Tag ein, Tag aus gegenübersitzt. Beide sind die Assisstenten der CEO's und beide können sich kein Stück leiden.
Dabei ist Lucy eigentlich eine liebenswerte Person, kommt mit allen zurecht und möchte es allen Recht machen. Nur Joshua lässt sich von ihrem Charme nicht beeindrucken und macht sich ständig über ihre kleine Größe oder ihre Klamotten lustig und ist allgemein unerträglich. Und als würde der Hass zwischen ihnen nicht schon heiß genug brennen, müssen sie auch noch um ihre Traumstelle kämpfen, die nur einer bekommen kann. Doch bekanntlich sind Hass & Liebe zwei Emotionen, die sehr nah beiander liegen...
"When I'm your boss, I'm going to work you so fucking hard", Joshua's voice is dirty and rough.
I am struggling to keep up with him now, but I make myself. Some of my tea spatters onto the carpet.
"When I'm your boss, you're going to do everything I say with a big smile on your face." [...]
I mutter under my breath but he still hears me. "When I'm your boss, I'm going to be convicted of murder."
Ich habe dieses Buch geliebt. Es war vermutlich sogar mein Jahreshighlight oder eines davon, denn von der ersten Seite an, konnte ich das Buch kaum aus der Hand legen. Sally Thorne hat einen so unglaublich tollen Schreibstil und ihre Dialoge sind so schlagfertig, dass man aus dem Grinsen gar nicht mehr heraus kommt.
Lucy und Joshua sind so unterschiedlich wie Tag und Nacht. Während Lucy ein lebensfroher Mensch ist und hilft, wo sie kann, ist Joshua zurück gezogen, kalt und oft sogar unhöflich. Und da sie sich seit ihrem ersten Arbeitstag zusammen in der neuen Firma hassen, sprühen die Funken, wann immer sie sich gegenüber stehen. Sie versuchen sich gegenseitig auszustechen, beschweren sich bei der Personalabteilung und spionieren einander nach. Die Wortgefechte, die die beiden sich liefern, haben mich unglaublich amüsiert. Sie waren schlagfertig und sarkastisch und ich habe beim Lesen so viel gelacht, wie lange nicht mehr!
"You're a way better stalker than I am." I feel a chill of fear when I see his big thumb push the B button.
He looks down at me, his eyes dark and intense. He's clearly deliberating something.
Maybe he'll murder me down there. I'll end up dead in a Dumpster. The investigators will see my fishnets and heavy eye makeup and assume I'm a hooker. They'll follow all the wrong leads.
Meanwhile, Joshua will be calmly bleaching all my DNA off his shoes and making himself a sandwich."
Trotz all der amüsanten Dialoge, kamen die Emotionen in diesem Buch nicht zu kurz. Kleine Momente zwischen Lucy & Joshua haben dieses Buch erst zu etwas besonderem gemacht. Durch kleine Gesten hat man immer wieder gespürt, dass tiefere Gefühle hinter all dem Geplänkel und Schlagabtausch stecken. Ich fand es toll, wie sich Lucy & Joshua immer näher gekommen sind und Seiten an sich und dem anderen entdeckt haben, die sie nie vermutet hätten. Eine absolute Leseempfehlung!
"Are you going to kill me tonight?", he asks against my mouth, and I kiss him again fiercely.
"I'm going to try."
Sally Thorne hat es geschafft, mich mit ihren Charakteren und ihren amüsanten Gedanken und Wortgefechten von Anfang bis Ende zu begeistert! Witzige und schlagfertige Dialoge, sowie emotionale Handlungen machen dieses Buch zu einem großartigen Leseerlebnis, der einen unterhält und zum Lachen bringt! Ich freue mich schon jetzt darauf, mehr von Sally Thorne zu lesen und kann euch dieses Buch auf jeden Fall empfehlen, zumindest die englische Ausgabe :)