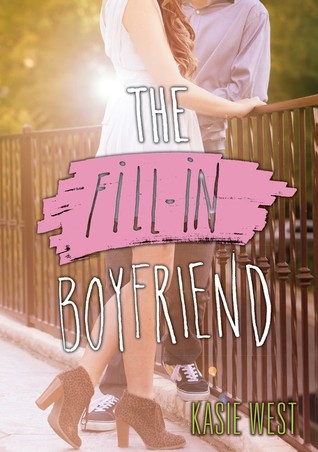 When Gia Montgomery's boyfriend, Bradley, dumps her in the parking lot of her high school prom, she has to think fast. After all, she'd been telling her friends about him for months now. This was supposed to be the night she proved he existed. So when she sees a cute guy waiting to pick up his sister, she enlists his help. The task is simple: be her fill-in boyfriend—two hours, zero commitment, a few white lies. After that, she can win back the real Bradley.
The problem is that days after prom, it's not the real Bradley she's thinking about, but the stand-in. The one whose name she doesn't even know. But tracking him down doesn't mean they're done faking a relationship. Gia owes him a favor and his sister intends to see that he collects: his ex-girlfriend's graduation party—three hours, zero commitment, a few white lies.
Just when Gia begins to wonder if she could turn her fake boyfriend into a real one, Bradley comes waltzing back into her life, exposing her lie, and threatening to destroy her friendships and her new-found relationship.
Ausgerechnet auf dem Parkplatz vor ihrem Abschlussball, macht ihr Freund Bradley mit Gia schluss. Dabei wollte sie ihn endlich ihren Freundinnen vorstellen, die ihr nach monatelangem Schwärmen nicht geglaubt haben, dass es Bradley wirklich gibt. Um vor ihren Freundinnen nicht dumm dazustehen, muss eine kleine Notlüge her. Und der perfekte Kanidat dafür ist auch schnell gefunden. Ein Typ, der strahlend blaue Augen hat und eigentlich so gar nicht ihr Typ ist, doch aus einem ihr unerklärlichen Grund sich bereit erklärt, ihren Ersatz-Freund zu spielen.
Kasie West hat wirklich eine Gabe dafür, Bücher zu schreiben, die unterhaltend, süß und zugleich emotional sind. Auch
"The Fill-In Boyfriend"
war so ein Buch. Zwar war es meiner Meinung nach nicht so gut wie
"The Distance Between Us"
, aber doch nah dran!
"You said it wasn't my smile that got you to go to prom with me but something else.
Was it that you felt sorry for me?
"
"Maybe a little at first, but then, you looked so..."
"Hot?" I prompted when he didn't finish

.
He smiled. "So lonely."
~ Seite 102 ~
Gia ist eine Persönlichkeit, mit der ich zu Beginn so meine Schwierigkeiten hatte. Sie ist distanziert, oberflächlich und sehr auf ihr Image konzentriert. Dennoch merkt man als Leser nach und nach, dass sie eigentlich selbst sehr unsicher ist und nicht wirklich weiß, wer sie eigentlich ist und sein möchte. Es war wirklich schön, sie auf ihrer Reise zu sich selbst zu begleiten und ich denke, jeder Leser wird etwas von sich selbst in ihr erkennen können.
Auch der Fill-In Boyfriend, dessen Namen ich euch nicht verraten möchte, war eine schöne Überraschung. Ich hätte wahnsinnig gerne mehr über ihn herausgefunden, aber da das Buch aus Gias Sicht erzählt wird, hat man nur selten einen Einblick in seine Gefühlslage bekommen. Trotzdessen war er ein großartiger Charakter, der Gia auf ihrem Weg geholfen hat und ihr bei vielen Dingen in ihrem Leben die Augen geöffnet hat.
Der Schreibstil von Kasie West ist flüssig und locker. Viel Charme und Sarkasmus haben mich oft zum Schmunzeln & Lachen gebracht. Besonders zum Ende hin hat die Autorin es geschafft, die Emotionen noch einmal hoch aufzudrehen. Alles in allem hatte ich wirklich viel Spaß mit diesem Buch und kann es euch nur empfehlen!
"
We rarely find depth by looking inside of ourselves for it. Depth is found in what we can learn from the people and things around us. Everyone, everything, has a story, Gia. When you learn those stories, you learn experiences that fill you up, that expand your understanding. You add layers to your soul.
"
~ Seite 211 ~
"The Fill-In Boyfriend" erzählt die Geschichte von einem beliebten Mädchen, dass durch eine Notlüge und eine zufällige Begegnung, herausfindet, was für ein Mensch sie ist und was für ein Mensch sie sein möchte. Kasie West konnte mich auch mit diesem Buch überzeugen und hat mir ein paar lustige & emotionale Lesestunden bescherrt. Definitiv eine Leseempfehlung!